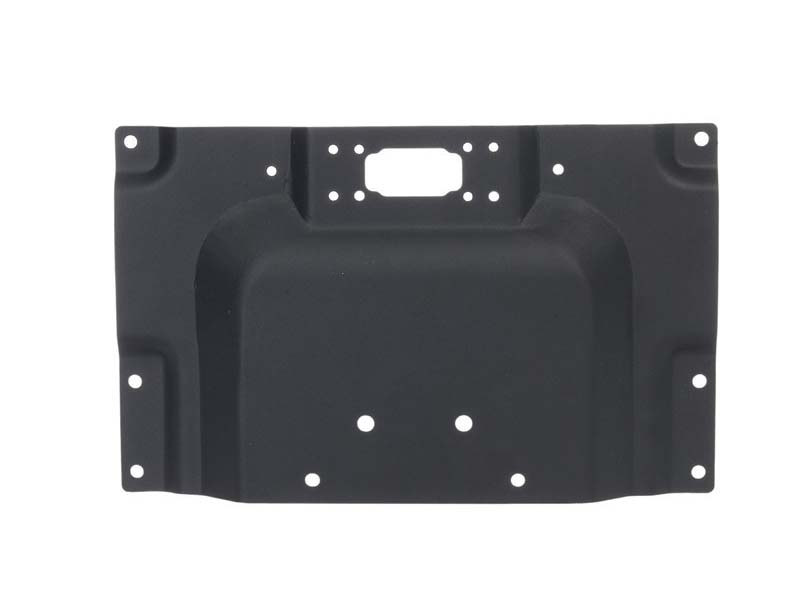 Sheet metal water-cooled chassis
Sheet metal chassis is very common, and sheet metal water-cooled chassis is unfamiliar to many people. Sheet metal water-cooled chassis is a method of installing heat dissipation for the heating parts inside the computer. And it can reduce the damage of dust to the computer and the noise generated when the computer is running, which is of great significance to ensure the stable operation of the computer. Located on the top of the chassis, it includes the circulating system radiator and the control system. The circulating system mainly transfers the heat in the chassis to the radiator, and then the radiator radiates the heat. For highly configured computers or servers, the problem of heat dissipation is directly related to the stable operation of the system.
The water-cooled block is a metal block with a water channel inside, which is made of copper, nickel or aluminum. It contacts with the CPU and will absorb the heat of the CPU. Therefore, the role of this part is the same as that of the air-cooled radiator. The difference is that the water-cooled block needs to have a water channel through which the circulating liquid passes and is completely sealed, so as to avoid the electrical short circuit caused by the leakage of circulating liquid. The function of circulating liquid is similar to that of air, but it can absorb a lot of heat and keep the temperature unchanged. If the liquid is water, it is the well-known water-cooling system.
Quick Links:>>> Sheet Metal Parts Components | Aluminium Bow Mount Bracket | Sheet Metal Frame | 4×4 Corner Brackets | Sheet Metal Chassis | Powder Coating Small Parts | China Sheet Metal Manufacturer | Sheet Metal Cover | Metal Frame Brackets | Sheet Metal Mounting Brackets | Sheet Metal Brackets | Kiosk Enclosure Manufacturer | Metal U Bracket | Sheet Metal Enclosures | Custom Sheet Metal Parts | Metal Enclosure Manufacturers | Sheet Metal Cabinet | China Sheet Metal Parts | Sheet Metal Bracket | Sheet Metal Parts Manufacturer | Sheet Metal Mounting Bracket | Custom Electrical Enclosures | Outdoor EV Charger Enclosure | Custom Sheet Metal Boxes | Custom Steel Parts | Sheet Metal Components | Sheet Metal Prototype | Prototype Sheet Metal Parts | Custom Sheet Metal Enclosures | Sheet Metal Box | Precision Sheet Metal Frames | Metal Enclosure Manufacturer | Prototype Sheet Metal | Custom Made Metal Parts | U Shaped Bracket | Sheet Metal Box Fabrication | Sheet Metal Bracket | China Metal Manufacturing | Stainless Brackets Marine | Custom Aluminum Parts | China Custom Aluminum Parts | Aluminum Parts Manufacturing | Metal Manufacturing in China | Custom Electrical Enclosures | Custom Electrical Enclosures Manufacturer | Custom Aluminum Enclosure | China Metal Parts Manufacturer | Sheet Metal Contractor | Sheet Metal Contractors | Custom Metal Enclosure | Sheet  Metal Contracting | Custom Metal Manufacturing | Sheet Metal Companies | Sheet Metal Service | Sheet Metal Services | Sheet Metal Fabrication Services | Galvanized Sheet Metal | Sheet Metal Laser Cutting | Sheet Metal Laser Cutting Parts | Custom Laser Cut Parts | Sheet Metal Production | Sheet Metal Production | Sheet Metal Manufacturing Companies | Sheet Metal Fabrication Companies | Sheet Metal Factory | Sheet Metal Fabrication Shop | Aluminium Sheet Metal Fabrication | China Custom Metal | American Custom Metal Fabricating | Sheet Metal Shop | Custom Sheet Metal Fabrication | Sheet Metal Parts Manufacturer | Sheet Metal Components
Sheet metal chassis is very common, and sheet metal water-cooled chassis is unfamiliar to many people. Sheet metal water-cooled chassis is a method of installing heat dissipation for the heating parts inside the computer. And it can reduce the damage of dust to the computer and the noise generated when the computer is running, which…
Sheet metal chassis is very common, and sheet metal water-cooled chassis is unfamiliar to many people. Sheet metal water-cooled chassis is a method of installing heat dissipation for the heating parts inside the computer. And it can reduce the damage of dust to the computer and the noise generated when the computer is running, which…