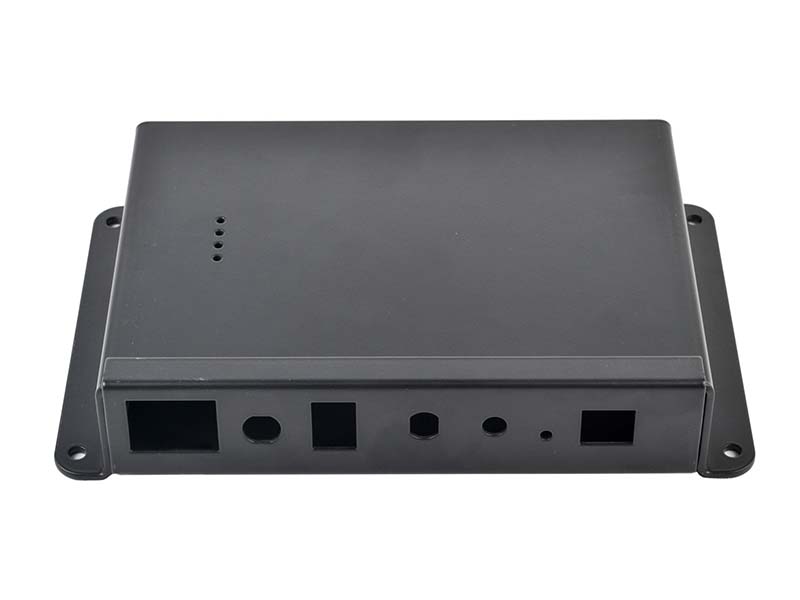 Processing surface treatment of equipment chassis shell
The surface treatment of the workpiece shall be carried out after the bending, riveting and other processes are completed. The surface treatment methods of different plates are different. Generally, the surface of the cold plate is electroplated after processing. After electroplating, spraying treatment is not carried out. Instead, phosphating treatment is adopted, followed by spraying treatment. The surface of electroplated plates shall be cleaned, degreased, and then sprayed. Stainless steel plate (with mirror panel, fog panel and wire drawing plate) can be brushed before bending without spraying. If spraying is required, roughening treatment shall be carried out; Aluminum plates are generally treated by oxidation, and different oxidation base colors are selected according to different colors of spraying.
During the processing of equipment chassis shell, the next process is usually carried out after the blanking is completed, and different workpieces enter the corresponding process according to the processing requirements.
Quick Links:>>> Sheet Metal Parts Components | Aluminium Bow Mount Bracket | Sheet Metal Frame | 4×4 Corner Brackets | Sheet Metal Chassis | Powder Coating Small Parts | China Sheet Metal Manufacturer | Sheet Metal Cover | Metal Frame Brackets | Sheet Metal Mounting Brackets | Sheet Metal Brackets | Kiosk Enclosure Manufacturer | Metal U Bracket | Sheet Metal Enclosures | Custom Sheet Metal Parts | Metal Enclosure Manufacturers | Sheet Metal Cabinet | China Sheet Metal Parts | Sheet Metal Bracket | Sheet Metal Parts Manufacturer | Sheet Metal Mounting Bracket | Custom Electrical Enclosures | Outdoor EV Charger Enclosure | Custom Sheet Metal Boxes | Custom Steel Parts | Sheet Metal Components | Sheet Metal Prototype | Prototype Sheet Metal Parts | Custom Sheet Metal Enclosures | Sheet Metal Box | Precision Sheet Metal Frames | Metal Enclosure Manufacturer | Prototype Sheet Metal | Custom Made Metal Parts | U Shaped Bracket | Sheet Metal Box Fabrication | Sheet Metal Bracket | China Metal Manufacturing | Stainless Brackets Marine | Custom Aluminum Parts | China Custom Aluminum Parts | Aluminum Parts Manufacturing | Metal Manufacturing in China | Custom Electrical Enclosures | Custom Electrical Enclosures Manufacturer | Custom Aluminum Enclosure | China Metal Parts Manufacturer | Sheet Metal Contractor | Sheet Metal Contractors | Custom Metal Enclosure | Sheet  Metal Contracting | Custom Metal Manufacturing | Sheet Metal Companies | Sheet Metal Service | Sheet Metal Services | Sheet Metal Fabrication Services | Galvanized Sheet Metal | Sheet Metal Laser Cutting | Sheet Metal Laser Cutting Parts | Custom Laser Cut Parts | Sheet Metal Production | Sheet Metal Production | Sheet Metal Manufacturing Companies | Sheet Metal Fabrication Companies | Sheet Metal Factory | Sheet Metal Fabrication Shop | Aluminium Sheet Metal Fabrication | China Custom Metal | American Custom Metal Fabricating | Sheet Metal Shop | Custom Sheet Metal Fabrication | Sheet Metal Parts Manufacturer | Sheet Metal Components | Aluminum Sheet Metal
The surface treatment of the workpiece shall be carried out after the bending, riveting and other processes are completed. The surface treatment methods of different plates are different. Generally, the surface of the cold plate is electroplated after processing. After electroplating, spraying treatment is not carried out. Instead, phosphating treatment is adopted, followed by spraying…
The surface treatment of the workpiece shall be carried out after the bending, riveting and other processes are completed. The surface treatment methods of different plates are different. Generally, the surface of the cold plate is electroplated after processing. After electroplating, spraying treatment is not carried out. Instead, phosphating treatment is adopted, followed by spraying…