What are the Considerations for Sheet Metal Welding Process?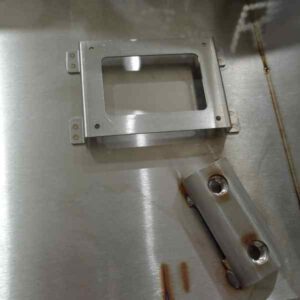 Sheet metal welding is a process commonly used in sheet metal processing to join parts together as required. However, in the actual production process, if not done properly, it will lead to deformation of the workpiece. The following are the precautions to be taken for welding:
(1) Choose the proper welding sequence. For welded structures with more components, the components should be welded separately and then assembled and welded as a whole after correction. In this way, it is better than assembling into a whole first and then welding, which has a smaller chance of welding deformation, and the local places can be welded while assembling and the operation is more convenient.
(2) Select a reasonable welding sequence. In order to prevent welding deformation, in the welding sequence, should take the strip welding method, back welding method and symmetric welding method.
(3) anti-deformation method. Is to give the welded parts before welding a deformation and welding deformation in the opposite direction, after welding just to offset the deformation of the workpiece before welding.
(4) rigid fixation method. This method is very effective in reducing welding deformation.
(5) the choice of reasonable welding methods and specifications. Various welding methods to heat the weld energy density and heat input is different, for thin plate welding, the use of high energy density welding methods, such as the use of carbon dioxide gas shielded welding, plasma arc welding instead of gas welding and manual arc welding, it can reduce welding deformation. When welding aluminum and aluminum alloy structure, gas welding than manual argon arc welding deformation is much larger.
Custom Metal Box Manufacturers | Custom Sheet Metal Enclosures | Custom Aluminum Box | Custom Sheet Metal Boxes | Custom Metal Boxes | Sheet Metal Supplier | Steel Box Manufacturers | Sheet Metal Box Manufacturers | Custom Made Metal Boxes | China Sheet Metal Manufacturer | Outdoor Vending Machine Enclosures | Industrial Machine Enclosures | Metal Enclosures for Electronics | EV Charger Outdoor Enclosure | Outdoor EV Charger Enclosure | EV Charger Enclosure | Custom Aluminium Box | Custom Steel Box | Metal Box Supplier | Metal Enclosure Manufacturer | Sheet Metal Enclosure Manufacturers | Metal Enclosure Box Manufacturer | Metal Enclosure Manufacturer | Aluminium Box Manufacturer | Outdoor Equipment Enclosures | Aluminium Box Manufacturers | Equipment Enclosures Metal | Metal Enclosure Box | Metal Enclosure | Enclosure Box Price | Sheet Metal Manufacturers | Sheet Metal Manufacturing companies | Custom Made Aluminium Boxes | Custom Made Metal Box | Aluminum Sheet Metal Fabrication | Aluminium Sheet Metal Fabrication | Auminium Tool Boxes Made to Order | Custom Metal Enclosures | Custom Stainless Steel Box | Custom Made Aluminum Boxes | Metal Box Manufacturers | Custom Steel Enclosures | Custom Stainless Steel Enclosures | Custom Metal Box | Custom Aluminium Box | Sheet Metal Fabrication Supplier | China Sheet Metal Fabrication | Custom Sheet Metal Fabrication | Sheet Metal Fabrication Services | Metal Manufacturing in China | Aluminum Box Fabrication | Sheet Metal Box Fabrication | Sheet Metal China | Precision Sheet Metal Fabrication | Custom Aluminum Box Fabrication | Custom Metal Box Fabrication | Sheet Metal Manufacturing | Metal Manufacturing Company | Metal Bending Services
Sheet metal welding is a process commonly used in sheet metal processing to join parts together as required. However, in the actual production process, if not done properly, it will lead to deformation of the workpiece. The following are the precautions to be taken for welding: (1) Choose the proper welding sequence. For welded structures…
Sheet metal welding is a process commonly used in sheet metal processing to join parts together as required. However, in the actual production process, if not done properly, it will lead to deformation of the workpiece. The following are the precautions to be taken for welding: (1) Choose the proper welding sequence. For welded structures…