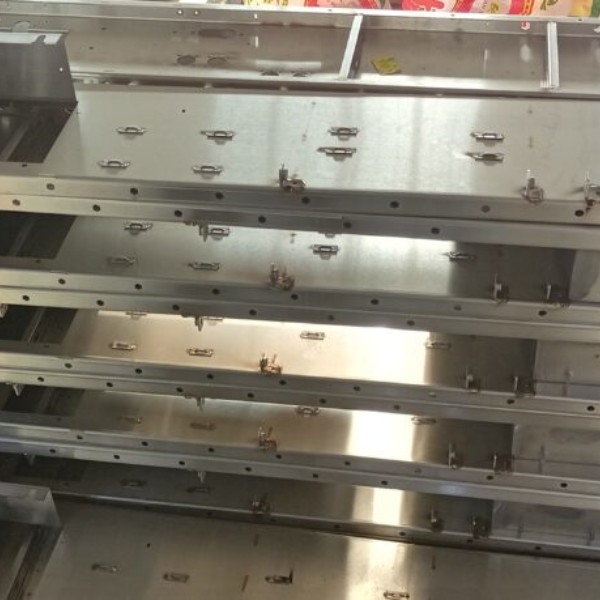 What are the Common Problems of Sheet Metal Processing Stamping Parts?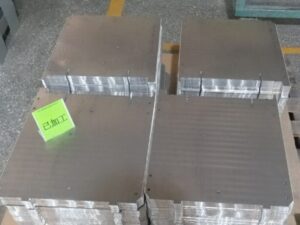 Sheet metal, in general, is some thin metal sheets that are plastic deformed by hand or die stamping to form the desired shape and size, and can be further formed into more complex parts by welding or a small amount of mechanical processing. Sheet metal processing is called sheet metal processing, and the main processes are shearing, bending and snapping, bending and forming, welding, riveting, etc., which require certain geometric knowledge. Sheet metal parts are thin sheet metal parts, that is, parts that can be processed by means of stamping, bending, stretching, etc. For example, the outer iron shell of a car is a sheet metal part. The following are the common problems of sheet metal processing stamping parts.
Burr: If there is residual material left in the process of punching or cutting the corners, the burr will be generated in the lower part of the truncated surface of the steel plate.
Convexity and concavity: abnormal convexity or concavity on the material surface is caused by foreign matter (iron chips, dust) mixed in the uncoiling line.
Roller print: caused by foreign matter attached to the cleaning roller or feeding roller (occurring at a fixed pitch), which can generally be removed by removing the foreign matter from the roller print on the plate material.
Sliding print: caused by the roller sliding, occurring when suddenly stopped or accelerated.
Roll crushing, edge wrinkling: wrinkling scenario generated by the guide roller on the unrolling line or the guide roller gap on the die when it is small, caused by the unyielding feed of the rolls.
Scratching: The main reason for scratching on the part, sharp scars on the mold or metal dust chips falling into the mold, prevent measures to repair the scars on the mold and remove the metal dust chips.
Bottom cracking: the main reason for the cracking of the bottom of the part is the poor plasticity of the material or the pressure of the mold crimp ring is too tight, to prevent measures to replace the plasticity of better materials or to loosen the crimp ring some.
Side wall wrinkles: the main reason for the side wall wrinkles of the parts is the thickness of the material is not enough or the deviation of the upper and lower mold installation, resulting in a large gap on one side and a small gap on the other side, to prevent measures for timely replacement of materials and readjustment of the mold.
Custom Metal Box Manufacturers | Custom Sheet Metal Enclosures | Custom Aluminum Box | Custom Sheet Metal Boxes | Custom Metal Boxes | Sheet Metal Supplier | Steel Box Manufacturers | Sheet Metal Box Manufacturers | Custom Made Metal Boxes | China Sheet Metal Manufacturer | Outdoor Vending Machine Enclosures | Industrial Machine Enclosures | Metal Enclosures for Electronics | EV Charger Outdoor Enclosure | Outdoor EV Charger Enclosure | EV Charger Enclosure | Custom Aluminium Box | Custom Steel Box | Metal Box Supplier | Metal Enclosure Manufacturer | Sheet Metal Enclosure Manufacturers | Metal Enclosure Box Manufacturer | Metal Enclosure Manufacturer | Aluminium Box Manufacturer | Outdoor Equipment Enclosures | Aluminium Box Manufacturers | Equipment Enclosures Metal | Metal Enclosure Box | Metal Enclosure | Enclosure Box Price | Sheet Metal Manufacturers | Sheet Metal Manufacturing companies | Custom Made Aluminium Boxes | Custom Made Metal Box | Aluminum Sheet Metal Fabrication | Aluminium Sheet Metal Fabrication | Auminium Tool Boxes Made to Order | Custom Metal Enclosures | Custom Stainless Steel Box | Custom Made Aluminum Boxes | Metal Box Manufacturers | Custom Steel Enclosures | Custom Stainless Steel Enclosures | Custom Metal Box | Custom Aluminium Box | Sheet Metal Fabrication Supplier | China Sheet Metal Fabrication | Custom Sheet Metal Fabrication | Sheet Metal Fabrication Services | Metal Manufacturing in China | Aluminum Box Fabrication | Sheet Metal Box Fabrication | Sheet Metal China | Precision Sheet Metal Fabrication | Custom Aluminum Box Fabrication | Custom Metal Box Fabrication | Sheet Metal Manufacturing | Metal Manufacturing Company | Metal Bending Services
Sheet metal, in general, is some thin metal sheets that are plastic deformed by hand or die stamping to form the desired shape and size, and can be further formed into more complex parts by welding or a small amount of mechanical processing. Sheet metal processing is called sheet metal processing, and the main processes…
Sheet metal, in general, is some thin metal sheets that are plastic deformed by hand or die stamping to form the desired shape and size, and can be further formed into more complex parts by welding or a small amount of mechanical processing. Sheet metal processing is called sheet metal processing, and the main processes…