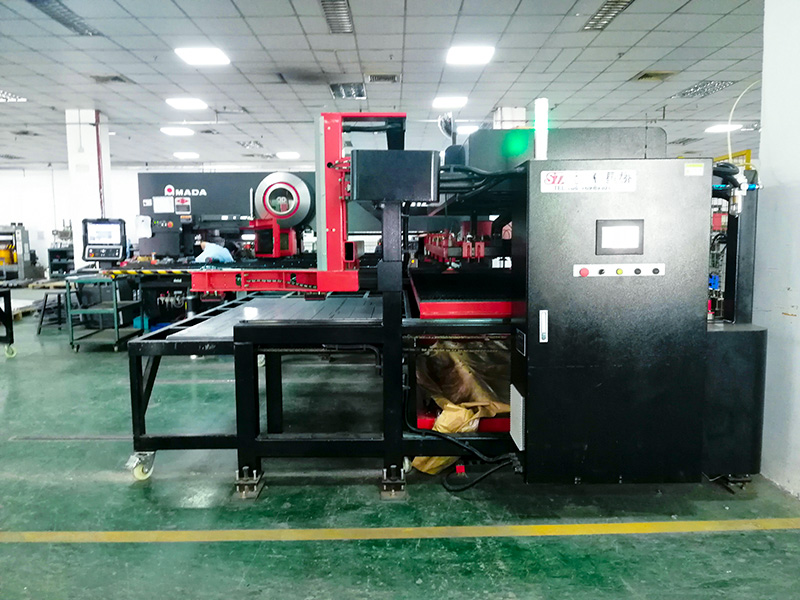 Safe installation of electronic cabinet
Installation cabinet:
You need to do the following three things yourself: first, use the screws and nuts of the random frame to tighten the fixing frame; Second, pull down the cabinet and install the movable wheels; Third, adjust and add baffles on the fixed frame according to the position of the equipment.
Arrange lines:
Group the network cables. The number of groups is usually less than or equal to the number of cable management racks behind the cabinet. Bundle the power lines of all equipment together, insert the plug from the rear through-line hole, and find their own equipment through a separate cable management rack.
Fixed equipment:
Adjust the baffle in the cabinet to a proper position, so that the administrator can see the operation of all devices without turning on the cabinet door, and add the baffle appropriately according to the number and size of devices. Pay attention to leave a certain gap between baffles. Place all switching equipment and routing equipment used in the cabinet according to the pre drawn drawing.
Cable labeling:
After all the network cables are connected, it is necessary to identify each network cable, wrap the prepared instant stickers on the network cable, and mark them with a pen (generally indicate the room number or purpose). The identification is required to be simple and easy to understand. The cross network cable can be distinguished from the general network cable by using different color instant stickers. If there are too many equipment, the equipment shall be classified, numbered and labeled.
Quick Links: Sheet Metal Parts Components | Aluminium Bow Mount Bracket | Sheet Metal Frame | 4×4 Corner Brackets | Sheet Metal Chassis | Decorative Corner Brackets | U Shape Bracket | Powder Coating Small Parts | China Sheet Metal Manufacturer | Sheet Metal Cover | Metal Frame Brackets | Sheet Metal Mounting Brackets | Sheet Metal Brackets | Kiosk Enclosure Manufacturer | Metal U Bracket | Sheet Metal Enclosures | Custom Sheet Metal Parts | Metal Enclosure Manufacturers | Sheet Metal Cabinet | China Sheet Metal Parts | Power Cabinet | Cabinet Power | Distribution Cabinet | Cabinet Distribution | Power Supply Cabinet | Cabinet Power Supply | Sheet Metal Bracket | Sheet Metal Parts Manufacturer | Sheet Metal Mounting Bracket | Custom Electrical Enclosures | Outdoor EV Charger Enclosure | Custom Sheet Metal Boxes | Custom Steel Parts | Sheet Metal Components | Sheet Metal Prototype | Prototype Sheet Metal Parts | Precision Laser Cutting | Custom Sheet Metal Enclosures | Sheet Metal Box | Precision Sheet Metal Frames | Metal Enclosure Manufacturer | Prototype Sheet Metal | Custom Made Metal Parts | U Shaped Bracket | Sheet Metal Box Fabrication | Sheet Metal Bracket | China Metal Manufacturing | Stainless Brackets Marine | Custom Aluminum Parts | Metal Manufacturing in China
Installation cabinet: You need to do the following three things yourself: first, use the screws and nuts of the random frame to tighten the fixing frame; Second, pull down the cabinet and install the movable wheels; Third, adjust and add baffles on the fixed frame according to the position of the equipment. Arrange lines: Group…
Installation cabinet: You need to do the following three things yourself: first, use the screws and nuts of the random frame to tighten the fixing frame; Second, pull down the cabinet and install the movable wheels; Third, adjust and add baffles on the fixed frame according to the position of the equipment. Arrange lines: Group…